General House Cleaning In Omaha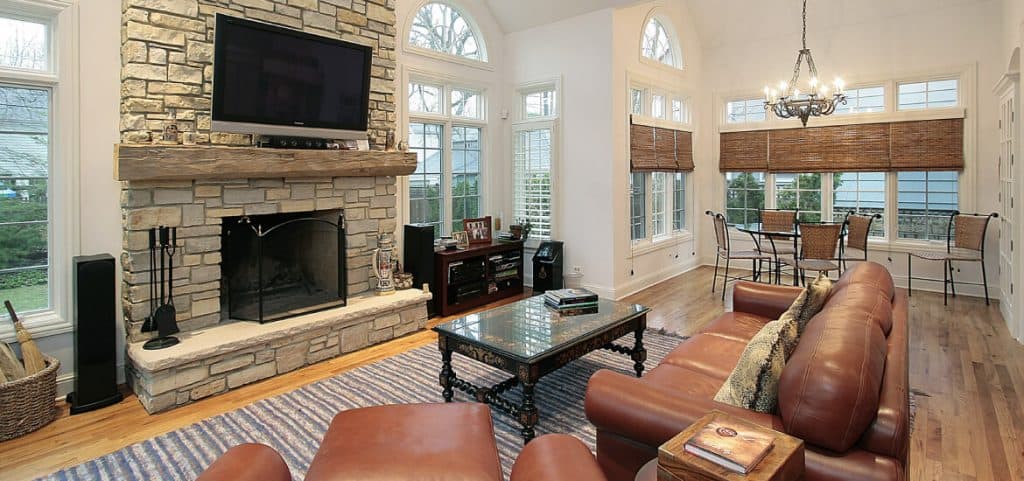 Do you keep your home cleaned and not necessarily need a spring clean? If we are starting a Recurring Maid Service with you and we do not need to do a "Spring Clean" here is what we will do. Once completed, our next visit will move to the "Recurring Maid Service."
Cobwebs removed
Spot clean interior doors, door frames, ceiling fans, light fixtures, window sills, window ledges, baseboards, cabinets, and tops of any exposed cabinets
Scrub counter tops and spot clean back splash
Clean and sanitize sink; polish if stainless steel
Clean microwave interior and exterior
Hand wipe all small appliances and other items on the countertops
Clean and polish oven and refrigerator exterior
(Interior of fridge $50, oven complimentary & must run self-clean)
Clean and polish vent hood
(we do not clean the inside or the filter)
Remove trash and replace liner
(replacement liners provided by customer)
Vacuum and mop floors
Cobwebs removed
Spot clean interior doors, door frames, ceiling fans, light fixtures, window sills, window ledges, baseboards, cabinets, and tops of any exposed cabinets
Pictures, artwork and knick-knacks dusted
Furniture dusted
(we do not move furniture – we will dust under as best as we can)
All electronics dusted
(we do not touch any television or computer screens)
Make beds, arrange throw pillows
(sheets changed upon request – complimentary)
Streak-free clean all mirrors
Streak-free clean all entry and exit glass doors
(weather permitting)
Disinfect light switches and door knobs
Wastebaskets emptied
Floors vacuumed and mopped
Cobwebs removed
Spot clean interior doors, door frames, ceiling fans, light fixtures, window sills, window ledges, baseboards, cabinets, and tops of any exposed cabinets
Exhaust vent brushed clean
Streak-free clean mirrors
Clean and disinfect counter top, sinks, and toilet
Scrub any soap scum and hard water stains one time
(Client might need to provide harsher chemicals if there is excess soap scum or hard water buildup)
Glass doors cleaned and shined
Tub scrubbed and fixtures shined
Hand wash wood blinds or shutters $10 per shutter or blind
Mini-blinds – Ask about our trusted partners, we do not clean mini blinds
*We do not climb higher than a 2-step ladder. Higher items will only be dusted with and extension duster. We cannot move furniture but we will try to reach visible places either by hand or with an extension duster. Most homes have at least once chandelier or vaulted ceiling fan that we cannot reach by hand.
**If shower, bathtub, tub/shower tiles have sever soap scum build up there could be an extra charge for a deep clean. For the "Spring Clean" we will not clean more that two times if sever build up is found. Please request in-home estimate to clean these areas.
What Clients Love About Grace
Outstanding work! Warm, courteous, professional team gave extra care to details. Our house looks and feels amazing! Thank you so much! So glad we chose Grace Cleaning . We will be recommending Grace to our friends and family. Blessings to each of you and your business.
Now more than ever, our home is serving as a multi-use space (office, virtual schooling, etc) and we needed some extra help with a deep clean for Spring. Grace definitely provided friendly, professional service and a great deep clean. It feels so nice to have a fresh start and to come home to a clean and refreshed space. Thank you!
After contacting various home cleaning establishments, I choose Grace Home Cleaning. They were very responsive in coming out to provide me an estimate and feel they are reasonably priced. They completed the cleaning today and she did a great job. Thank you!
Shout out to Grace Home Cleaning for doing such an amazing job on my (much needed) deep clean. (Even all of my mini blinds have all been dusted!) I feel like I can think much more clearly knowing I have NO cleaning to do in my house right now. What an amazing feeling! Worth every penny! Now back to work...
We had a cleaning company clean for us and they just did what was needed to be done. We found Grace Cleaning through word of mouth and they went above and beyond what we expected of cleaning. The place was immaculate. We never were disappointed in their work. We are very excited for them to start this full time and show everyone what great things they can do for you. I would recommend them to anyone!